Scaffolding a place in which to collaborate
This article comes from a case study of working with the faculty in an academic institution over the summer of 2017, to help shape a manual to embed shared principles. This work was done with David Gunn of Something More Near.
​What happens after you've met? How do you take the outputs of a meeting and turn them into something useful that you are making together? Here's an example - turning a manifesto into a set of working principles that govern what we do together.
Two layers of organisation are at work here. Using an architectural frame of reference, the first might be called a blueprint for change.
The client, an academic institution, had done in-depth research to identify and validate core set of principles to govern the restructuring of the academic portfolio, and the related activities that support the delivery of courses, and of the student experience. They called the chosen principles 'The Mindsets and Skillsets Manifesto'.
How could those principles become something that helped individual leaders work together, while retaining their distinctive and independent expert approaches?
'Principles, unlike rules, give people something unshakable to hold onto yet also the freedom to take independent decisions and actions to move toward a shared objective.'From a SmartBrief on leadership by Eric McNulty (2017)
The two Deans of the organisation took the organisation through a three step journey from manifesto, to making meaning of the manifesto, to making a prototype 'mini-manual' that would test that meaning in live situations.
There is more to come. We are still in the middle of a longer story unfolding, as the manifesto makes its way from the head of the institution to its heart, and to what it turns it hand to day in and day out, but this article zooms in to a particular moment in middle of the transition - the moment which took place over the summer and autumn of 2017 when a three day offsite was designed working backwards from an intention  to produce raw outputs, and a way of working together, which could prime a virtual collaborative workspace in which version 1.0 of the mini-manual could be produced collaboratively.
How could the virtual workspace be scaffolded  (to use the second architectural frame of reference) and actively hosted so that it produced a dynamic collaboration which made space for individuals to contribute, challenge, agree and disagree, work through potentially fierce emotions and reactions, and eventually settle on a good enough shared approach for now?
We combined five design elements to shape the collaboration space:
1. Pivoting from the outputs of a three day face to face meeting directly into the collaboration space
2. Using a pattern language to structure contributions in the collaboration space
3. Allocating responsibility for specific parts of the collaboration space to contributor pairs
4. Actively hosting the space, and the conversations, challenges and collaborations taking place in it, with a firm end deadline, and communiques about progress to the whole group
5. Coming to the agreement that a finely produced, polished artefact would be less useful, for now, that a more temporary and raw feeling, living work in progress.
Below the line here are a couple of edited exhibits from that work.
___________________________________________________________
Exhibits
1. The Mindsets and Skillsets Manifesto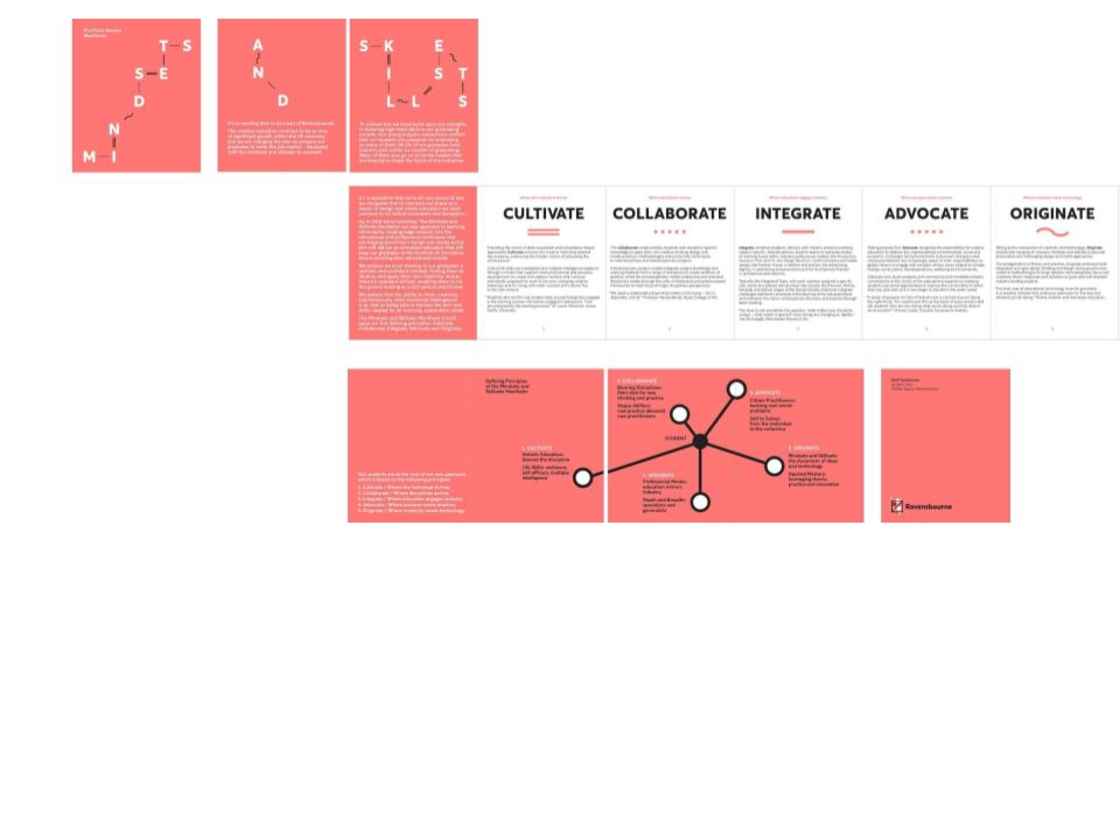 There are Five Principles in the Manifesto which we are committed to threading through everything we do:
Cultivate / Where the individual thrives
Collaborate / Where disciplines evolve
Integrate / Where education engages industry
Advocate / Where purpose meets practice
Originate / Where creativity meets technology
2. Working together
[an edited version of the 'Start Here' document in the Google Documents collaborative working folders.
This document contains three things. First, the proposed principles by which we can (a) collaborate effectively in this workspace in the short term, (b) the shared disciplines for writing the Mini-Manual together and (c) model this as a potential mode of collaboration for the longer term. Second the current file structure, with hyperlinks to key documents in the whole workspace.
Some guidelines
This is a collaborative workspace. It's primary purpose is to help make something useful, a first version of a Mini-Manual (MM) for implementing the Mindsets & Skillsets Manifesto that everybody can immediately work with immediately. The Mini-Manual probably has a shelf life of October 2017 - April 2018.

The immediate deliverables are one-page (c.350 word) entries submitted by team leads for agreed themes.
While making MM 1.0 there is also an opportunity to model new working practices on behalf of all, e.g.
Create disciplines and a shared approach to a collaborative workplace that go beyond this and model tomorrow's operating model today
Prototype working structures to create signed-off content, create structured conversations, and create feedback loops which will allow purposeful creativity in taking the thinking on key themes forward.
Take a first step towards substantial, dynamic, operating manuals (for staff, for students) at the heart of the organisation's culture
Please stick to agreed deadlines and keep top level information up to date where you have, e.g. invited people, developed content etc.
It's a private workspace for team leads for now. We may chose to change this.
Everybody is free to comment on, or contribute in any area provided this is moving towards constructive convergence towards a publishable, friendly, simple, usable mini-manual or creating necessary discussion for the future
Where you are writing versions of actual content for the MM, try writing in a very simple, friendly, tone of voice and point at more comprehensive materials to help colleagues
File or work in progress and versions so that a stranger could find their way round (this could be a colleague in the workspace, or a future team lead or contributor in your area)
There are some other working principles for collaborative working that might be handy that I (Victoria) can dig out but feel free to add your own. I tend to write in very change management language, so feel free to rewrite me into your own language.
If you update this, please update the date at the top. See below for file structure, to which the same applies.
3. Principles for collaborating to complete the first 'rough' version of this Mini-Manual.
[From the assembled manual - guidance for content providing leads and their teams]
The governing principle here is that almost every section works to a 'pattern language' which helps create, contain, connect the thinking.
The idea of a pattern language comes originally from Christopher Alexander. It's often applied in writeshops. I hope that we get to develop future Mini-Manual versions and the larger manuals using a writeshop approach.
Direct, concise, simple, friendly.
The smallest it can be. What's the smallest amount of content that is useful enough to start people off?
Operates at the level of principles linked to practical resources and to helpful people.
Try to keep it stylistically similar in presentation.
Anybody can work anywhere in this document. You don't have to be invited.
If it's just grammar and spelling just go straight in and make amendments. No need to track changes. Trust each other to improve.
.The team lead is the lead responsible for each section, for handling comments on their patch, and for strengthening lateral links between sections in each round of edits.
We've agreed that we'll create a 'rough' version that can immediately be used, and defer (but not for too long) the production of a polished artefact. Timings to be agreed.
Metaphors - Manifesto, rough guide, instructional, MOT, operating manual, rule book, scaffold, navigator, map
Victoria Ward 27/9/17
4.  From the Preface
This is a Mini-Manual for academic and support staff.. It has its roots in the Portfolio Review which resulted in the Mindsets and Skillsets Manifesto which established  'five principles', informed by in-depth research. We've worked hard as a team since developing them to test and apply them. Specialist groups of faculty were also assigned specific sections of this document,  and this Manual is the first translation of the Manifesto, and its five principles into our culture and curriculum. Here is what it aims to be:
It's a short, practical tool to support you in the process of (re)validation over coming weeks & months.
It's a guide that will help you get a quick grasp of how the principles apply to different elements of what we do, find the  right technical resources, ask good questions of yourself and of others, see opportunities to jump in and offer each other experience, skills and encouragement.
It's a first step together - it will lead to ongoing discussion and  improvement during the next academic year and a larger manual in in due course.
It's focused on simple help and information, not longform theory, although there's plenty of depth and practical guidance sitting just behind it, both in documents, and in people's' experience and practice.
Although a little rough around the edges, this mini-manual should provide teams and individuals a quick, practical, and evolving resource when attempting to prepare for the validation and revalidation processes and future developments. This has been made by us, for us. We will use it, break it, learn together from making and using it. By placing it at the heart of our thinking, practice, actions and conversations which can breathe life into the Mindsets and Skillsets Manifesto together at a key moment on our journey as an academic organisation.